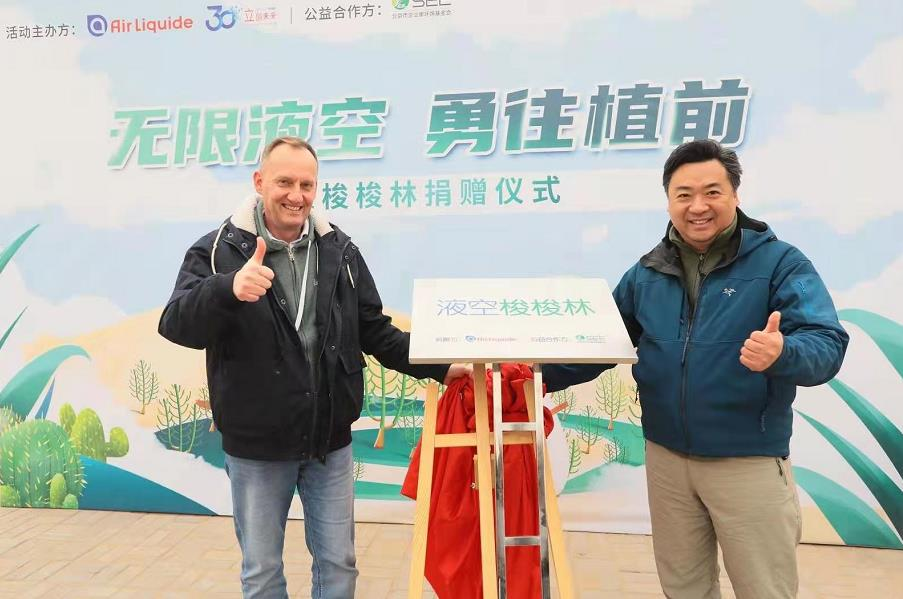 On March 17, Air Liquide China launched a new corporate social responsibility project - "Haloxylon ammodendron forest" in Alxa League, Inner Mongolia.
The initiative is part of Air Liquide's corporate social responsibility activities. Air Liquide has been operating in China for 30 years and is committed to providing customers with innovative solutions, including low-carbon technologies that help reduce carbon emissions to cope with climate change.

The project of "Haloxylon ammodendron liquefaciens forest" is a joint venture between air liquefacient China and see Foundation (Beijing entrepreneur Environmental Protection Foundation). It donated 1 million yuan to the foundation for planting 100000 Haloxylon ammodendron trees in Alxa, covering an area of about 1.5 million square meters.

In recent years, the government of Inner Mongolia Autonomous Region has actively advocated afforestation in dry areas to prevent desertification, protect biodiversity and improve living environment. Haloxylon ammodendron can adapt to severe climatic conditions, and is the first choice for afforestation in desert areas. It has well-developed roots, usually up to two to three times as long as the ground branches, to absorb water from deep underground. Therefore, a Haloxylon ammodendron can fix 10 square meters of sand. In addition, Haloxylon ammodendron can provide habitat for sparrow, and its root can be grafted with Cistanche deserticola. At the same time, Haloxylon ammodendron absorbs carbon dioxide to help reduce carbon emissions.
Since Air Liquide China launched its annual tree planting activity "green action" in 2009, employees in more than 40 cities across the country have organized or actively participated in local tree planting activities every year. At the same time, they also actively respond to the company's many sustainable lifestyle initiatives, such as participating in "green commuting day" activities to reduce carbon emissions in daily commuting.
At the donation ceremony, Zhang Li, Secretary General of see foundation, said, "I am very glad to reach a consensus and establish cooperation with Air Liquide China in the field of desertification control and climate change response. See foundation is committed to building a social protection platform with the participation of enterprises, environmental protection organizations and the public to carry out practical work to alleviate and solve environmental problems. We will work with Air Liquide China to promote environmental protection and sustainable development with practical actions. "

Representatives from the management, employees and partners of Air Liquide attended the donation ceremony. Bai Haotian, President and CEO of Air Liquide China, said, "we are very happy to join hands with see foundation to plant trees in Inner Mongolia to reduce carbon emissions and combat desertification. For decades, China has been committed to afforestation to control air pollution and reduce carbon emissions. Air Liquide has always taken climate change as the core of its strategy. We will, as always, take practical climate action and work for sustainable development. "