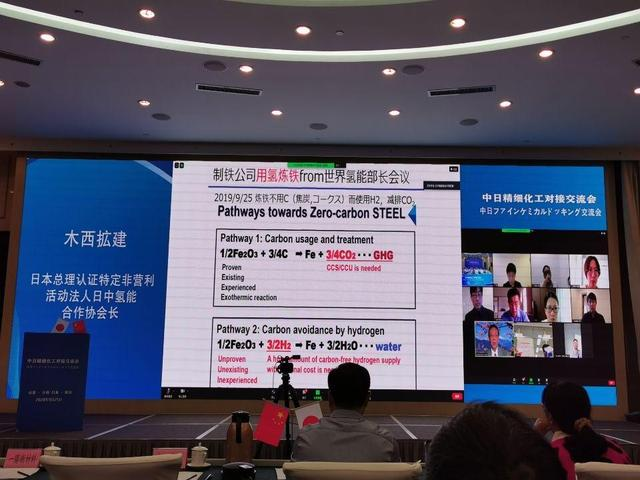 Chemical industry is the foundation and pillar industry of national economy, which plays an important role in the industrial system of Shandong and Japan. In the afternoon of September 25, as the expansion and extension of the series of activities of "dialogue Shandong Japan Shandong industrial cooperation and exchange meeting", which opened on July 30, the "dialogue Shandong China Japan Fine Chemical docking exchange meeting" jointly organized by the Provincial Department of industry and information technology, the provincial special action Office of chemical industry and the Japan chemical export and import Association, was held in Jinan. In the past two hours, more than 30 enterprises have gathered in the cloud to conduct in-depth exchanges on deepening mutually beneficial cooperation in this field.
As of last year, the total economic volume of Shandong chemical industry has ranked first in China for 28 consecutive years. According to sun Jingjun, chief engineer of the Provincial Department of industry and information technology, Shandong Province has formed an industrial system of "seven major plates", namely refining, chemical fertilizer, inorganic chemical industry, organic chemical industry, rubber processing, fine chemical industry and synthetic materials. In 2019, the main business income of petroleum and chemical enterprises above Designated Size in the province will reach 2.08% There are 3073 Chemical Enterprises above designated scale, accounting for 11.7% of the national total. With such a large industrial scale, there are abundant opportunities for cooperation. The latest news brought by former vice president of KPMG, former president of PWC in Japan, and artificial intelligence consultant of Shandong Province, he mingmao, has further increased the confidence of enterprises of both sides in win-win cooperation.
"Since the epidemic, automobile, the largest downstream industry of chemical industry, has been greatly impacted. However, on the whole, many chemical investment, including overseas investment, is still active, and even many chemical enterprises are expanding their investment." He noted that Japanese companies are continuing to make efforts in the fields of advantageous products such as vehicle battery isolation membrane, glass fiber composite materials, and airbags, considering the possibility of future recovery. At the same time, he also revealed that small and refined, focusing on environmental protection are the two major development trends of Japanese chemical industry, and the proportion of related products and inventions continues to increase. Shandong enterprises may as well "target" to seek cooperation.

According to reports, in order to ensure the quality of docking, the two sides have organized Chinese and Japanese enterprises to carry out offline material interaction before the meeting. This activity can be regarded as a further promotion of enterprises with preliminary intention after the preliminary interaction and exchange. At the same time, as suggested by he mingmao, the products of enterprises participating in the promotion and exchange mainly focus on the development of fine chemical industry.
Shandong Yiteng new materials Co., Ltd., a national high-tech enterprise from Feicheng, has successively drafted five national, industrial and provincial local standards in the field of cellulose. However, compared with the long-term development goals, the problem of low proportion of high-end products is still prominent. Technical director Li Changyin's cooperation demands are very specific: "the performance of our HPMC and HEMC products is not stable, and there is a lack of relevant detection methods. This time, we are looking for support in the aspects of detection methods, equipment and process optimization. Wastewater is discharged harmlessly through MVR desalination, COD biochemical degradation and other means, but the treatment cost is high, and we hope to obtain more economic and efficient points through cooperation Processing technology and by-product salt disposal plan. "
Shandong Shenghua New Materials Technology Co., Ltd., which is engaged in the production of liquid crystal materials, OLED materials and pharmaceutical intermediates, is very familiar with the outstanding enterprises in relevant fields such as Yubu, Sumitomo, Osaka and Xingye. Dong zhaoheng, the executive vice president of Shandong Shenghua New Materials Technology Co., Ltd., is very familiar with the outstanding enterprises in relevant fields, such as Yubu, Sumitomo, Osaka and Xingye, etc All round cooperation. "